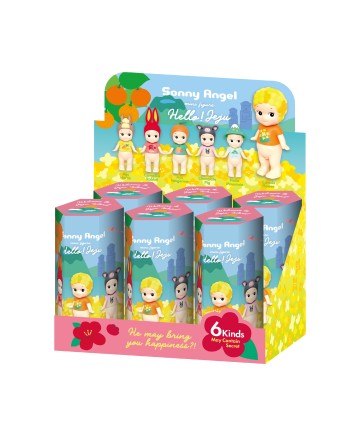 Jeju Island, located in South Korea, is a haven of natural beauty and stunning seascape. This island, home to numerous world natural heritage sites, has also served as a backdrop for popular Korean dramas, attracting tourists from around the globe. The Sonny Angel Hello! Jeju series captures the essence of this enchanting destination, with each figure showing the unique charm of Jeju Island.
When displayed together, these figurines create a picturesque panorama similar to Jeju Island's breathtaking scenery.
The packaging showcases the island's natural wonders and picturesque landscapes. With 6 figure types available and 2 secret variants, totaling 8 types, half the excitement lies in discovering which Sonny Angel awaits you when you open the package. Get ready to embark on a playful journey through Jeju Island with Sonny Angel by your side.
Each Sonny Angel figurine in this series is packaged in a "blind box," adding an element of surprise. You won't know which one you'll get until you open the package, making collecting these Sonny Angels fun and exciting!